Our experience with Punchout systems and integrating ERP and procurement tools.
20 December 2019
At Wida Group, we're doing more and more integrations for our customers, for lots of different systems and we're getting pretty darn good at it too!
Something that we have now also successfully done and have the know-how, is integrating websites with our customers… customers systems (we will term as the buyer). This may be the buyers own ERP system or as we've experienced, a procurement tool the buyer uses.
The buyer may build orders within their system. Their system may hold a number of products from various suppliers. The importance of the system we create, is to supply the product data, stock and catalogue to the buyer's system on a scheduled basis as well receive the order information once the buyer has sent their order. In various cases of past projects that we've completed. Once the order is received from the buyer's system to our customers website. The order is then pushed through from the website, to our customers ERP/stock management system. There is often a requirement to send back to the buyer confirmation the order has been received/approved.
This type of setup is often referred to as a Punchout system. We have also put together a general diagram for how the flow of this process commonly goes;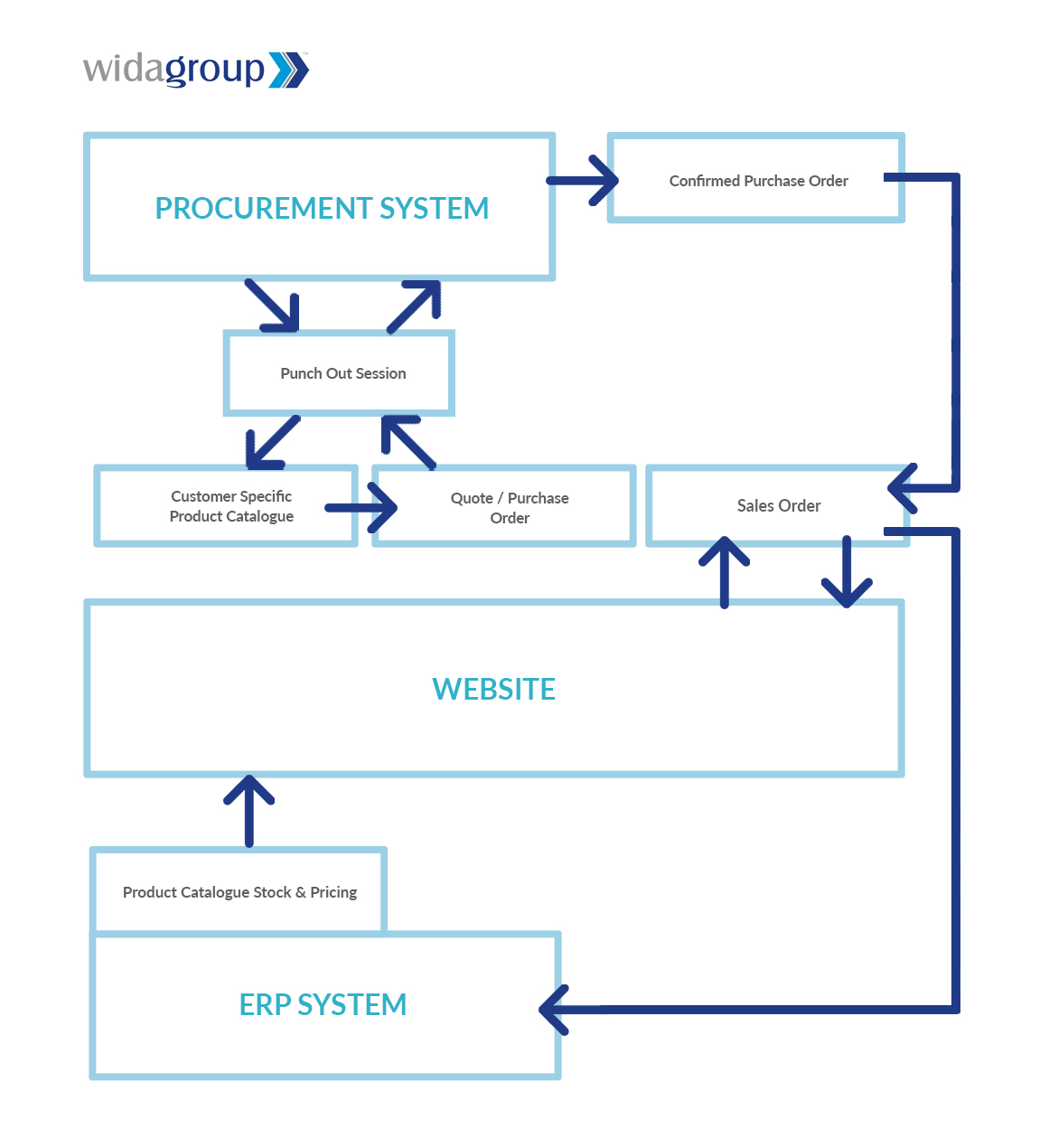 Systems Wida Group can work and integrate websites with but not limited to;
Coupa Punchout
Agresso Punchout with Proactis
Oracle Punchout
SAP OCI Roundtrip
Ariba Punchout

Here are a number of key features we have experience with;
Multiple Punchout systems integrated to a single website.
Enterprise level B2B ecommerce website
Client specific product catalogues.
As mentioned already, integrate the website with your own ERP/business management software.
Order splitting – split an incoming order into more than one back to back sales order.
Product matrix/options e.g. colour/size
Lead times
Customer specific pricing
Promotional pricing
Quantity break pricing
Email triggers/macros for status notifications
Multiple depo stock levels
Manager order approval/budgeting
Custom shipping methods and pricing.

If you would like to discuss with us further and think your business and your customers could benefit from a Punchout system, or maybe you're in the process of doing a tender that has a requirement for something similar, please don't hesitate to call the office and speak to Chris so we can get more information and provide a quotation.